The project is to reconnect Robertsbridge with Bodiam, providing a link to the main line for the Kent & East Sussex Railway, boosting tourism in the Rother Valley area, and helping to relieve traffic congestion and pollution. Passengers will once again be able to link with mainline trains and visit Bodiam Castle and Tenterden without using their cars.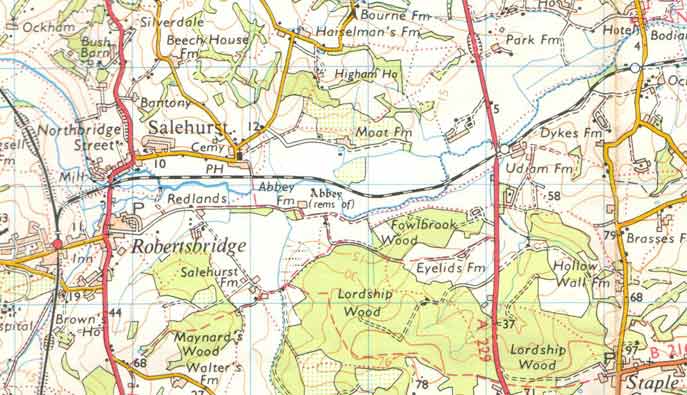 Old Ordnance Survey Map (1974 Landranger Sheet 199 Eastbourne and Hastings 1:50 000 First Series) extract showing the section to be restored. Reproduced by kind permission of Ordnance Survey. © Crown Copyright. NC/03/20262
Modern Ordnance Survey Map (1997 Explorer Sheet 136 The Weald Royal Tunbridge Wells 1:25 000 Edition A) showing trackbed. Notice A21 bypass and missing embankment area. Reproduced by kind permission of Ordnance Survey. © Crown Copyright. NC/03/20262
Phase I
Establish brake van rides over the existing 600 yards of track - TBC.
Phase II
This will involve extending the line an additional 200 yards to North Bridge Street. This statement belittles the task. There are five bridges between the RVR site and Northbridge St, four of these will need to be rebuilt, the first bridge being the most difficult and expensive due to the span involved. Bridge two is the only one that is completely intact, as Southern Water rebuilt this several years ago.
Phase III+
The connection through to Bodiam. Once again a brief account of a mammoth task. To achieve this goal there are two roads to be crossed, North Bridge Street and the A21, and there is the River Rother to cross and three miles of formation to clear and lay track on. The project is not helped by a shortage of funds and most of the trackbed still needs to be acquired on the route, however all these obstacles will be resolved, and negotiation continues...
Click Here For Progress Reports

---
Copyright(c) 2004 Skullclamp Creations. All rights reserved.